Eliminate Unpleasant Smell Using Oolong or Green Tea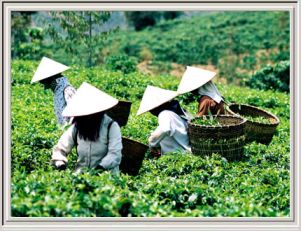 Our relative of young couple came to me asking how come their house, room, and their body produce hateful odor around.
A few days later, I had a chance to visit their house, and I told my assistant to find out where these smell spread.
They claim that they are cleaning and wiping everywhere from toilet, kitchen and carpets.
Can you believe that bad smells were from plastic materials such as window blinds, television sets, stereo sets, and wooden floor?
Take note that particles (elements) of odor easily attract these plastic materials and wooden materials more than other materials. Then, the floor and appliances became the source of smell.
I told them to wipe all of these with "oolong tea" or any other green tea.
In Japan, since the time of our great grandparents, we do not throw used tea but we practice to spread used tea around the room and clean and wipe everywhere. We know that tea attracts tiny dust particles and remove unpleasant smell.
The young couple came to me after few months and told me that all unwelcome smells were gone and even their body odor were gone with oolong tea.
Drinking oolong tea removes bad smell, too. It means that you don't smell bad after drinking oolong tea for awhile. Tea leaves have a certain substance that can kill bacteria and eliminate bad odor. Great, isn't it? Do it and act now.
------------------------------------------------------------
Reprint Rights: You may reprint this article within your website, blog, or newsletter as long as the entire article remains the same as well as the "About the Author" box.

Post your comment about the article below: