Cervical Cancer in Girls and Young Women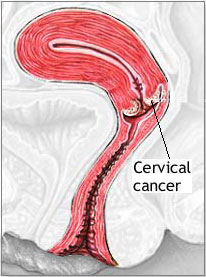 Cervical cancer that occurs near the entrance of the uterus, accounts for about 70% of all cervical cancer cases. A growing number of young women (17-28 years old, and up to 40 years old) who are sexually active, are becoming at risk of developing cervical cancer. However, a high cure rate can be expected if detected early, and if pregnant, will be able to safely continue her pregnancy or childbirth.
During the past few years, young women who are affected by cervical cancer are dramatically increasing.
Cervical cancer is believed to be caused by a virus, especially by the "human papillomavirus (HPV)" that is carried from the seminal fluid of the infected male genitalia, which supports the theory that cervical cancer is likely to be transmitted via sexual activity. In fact, cervical cancer cases are so rare on women who have never been sexually active.
To prevent the transmission of HPV, the use of condoms can help provide protection. In addition, early detection and regular screening is recommended. Medical examination should be done for all who have experience of sexual intercourse.
In so many ways, the human papillomavirus still remains a big mystery. Human papillomavirus is a type of wart virus that consists of about 100 different types, with about 40 that are classified as high risk.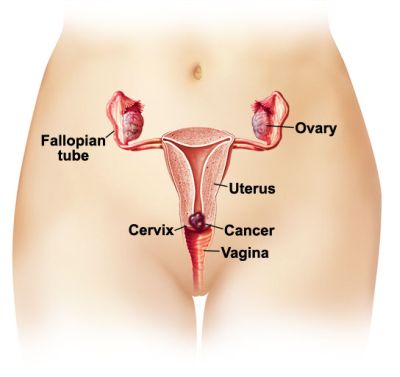 What Are the Signs and Symptoms of Cervical Cancer?
Most symptoms are not seen during the first half of the cancer stage. In rare cases, bleeding is observed during sexual intercourse. Thus, regular checkups are very important.
In the second stage, as the cancer progresses, bleeding and foul or putrid odor will be observed. You may also experience lower abdominal pain and symptoms of "hematuria" (presence of blood in urine) or "hematochezia" (passing of bloody stools).
How Can You Treat Cervical Cancer?
Yes, treatment is important, but "prevention" is the best of all. Vaccine for some strains of HPV that cause cervical cancer has been developed and made available. More than 100 countries adapted vaccination, especially for teenage girls. This kind of vaccine is also adapted for breast cancer patients. Consult your physician if you have had sexual intercourse at a young age.
Treatment for cervical cancer varies depending on whether you want to continue pregnancy and your desire for giving birth in the future. Home environment and working conditions should also be considered.
In most cases, if cervical cancer is diagnosed at early stage, undergoing surgical procedure called "cervical conization" helps remove only the affected tissue (cone-shaped tissue), and your ability to have children will be preserved.
However, if the cancer has spread further, you will be required to undergo "hysterectomy" (surgical removal of the uterus) and you will no longer be able to bear children. In advanced stages of cervical cancer, radiation therapy or chemotherapy will usually be performed.
We strongly recommend that you undergo checkup as often as possible. Cervical cancer can be completely eradicated if diagnosed at early stage.
Cervical Cancer Worldwide Statistics
It is the fifth deadliest cancer in women around the world.
It affects about 16 per 100,000 women per year.
It kills about 9 per 100,000 women per year.
It is estimated that there are about 490,000 cervical cancer cases, and 270,000 deaths per year.
Reprint Rights: You may reprint this article within your website, blog, or newsletter as long as the entire article remains the same as well as the "About the Author" box.
Post your comment about the article below: