Bamboo Charcoal
Bamboo charcoal has properties very different from the bamboo plant, especially its high density and porous structure.
Bamboo charcoal has high mineral contents such as potassium, calcium, iron, and sodium. And for so many years, people especially in Japan uses bamboo charcoal for many purposes, from households, kitchen tools, and medicines.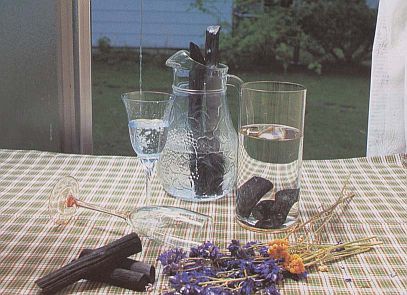 Bamboo as a Healthy Food and for Development of Your Town
Bamboo for food? Yes, bamboo shoot (young shoot of the bamboo plant used in Asian cooking) for food is known to us. But you never heard that a hard old bamboo can be eaten as a healthy food. Read More...
Benefits of Bamboo Charcoal
Bamboo charcoal has many uses. It can be used when cooking rice, frying foods, purifying tap water, and many others. Read More...
How to Make Bamboo Charcoal in a Simple Way
If you talk about charcoal, it's commonly made by using hardwood used in the deep mountain sites with big furnace. This time, a small part of bamboo branch will be used instead for charcoal making. Read More...
Bamboo Charcoal Making Using a Drum or Oil Can
Bamboo charcoal can be produced by another way using a drum or an oil can. Materials and tools needed: Materials and tools needed: 1) A drum can with cover 2) Chimney 3) Tinplate sheet 4) Grinder 5) Pliers 6) Metal cutter. Read More...
Medicinal Benefits of Bamboo Charcoal
We believe that bamboo charcoals have more than 400 kinds of minerals and hundreds of medicinal benefits and effects for our health. Some of these are for humidification, deodorization, mineralization, infrared ray, negative ionization, bamboo charcoal vinegar. Read More...
How to Make Tasty and Healthy Water Using Charcoal
Nowadays, tap water is no longer tasty anymore. The main reasons for this are air pollution and industrial waste. Cancer-causing substances such as nitrogen oxide, lead, trihalomethane, and sulfur oxide in gasoline are used in large amount by today's modern world. These chemicals get mixed in waters that travel through streams to your tap.
Because of this, many people are filtering and purifying their water or even buying expensive mineral water. Now, using charcoal for safe tap water has come to public attention in Japan. Using charcoal can make safe water easily, tasty, and cost-effectively! Read More...